Winetours Moldova is a boutique agency creating genuine and delicious Wine & Culinary journeys with a first-class experience.
Vision of the company
Our vision is to become the leading wine-tourism operator in Republic of Moldova, by continuously developing new relationships and opportunities, and providing always amazing and memorable Wine Travel Experiences
Mission of the company
Our mission is to provide amazing and memorable Wine Travel Experiences in Moldova, by offering a first class service.
Values of the company
Service: We are committed to providing amazing and memorable Wine Travel Experiences.
Respect: We work together with our partners and suppliers with respect and integrity to develop and maintain long lasting and mutually beneficial working relationships.
Passion: We are passionate about our business. We serve our customers through quality of our services; promote creative and innovative ideas and solutions.
Excellence: We are committed to being a high performance organization by staying focused on total customer satisfaction. We continuously analyze our processes and ourselves in order to become the best of the best.
***
At the 16th edition of the National Wine Day, in 2017, The Governement of Republic of Moldova awarded Winetours Moldova for outstanding achievements in the development and promotion of oenotourism. For the first time a travel agency is awarded with the Gratitude Medal "Wine of Moldova. A legend alive". 

More details about company awards can be found here.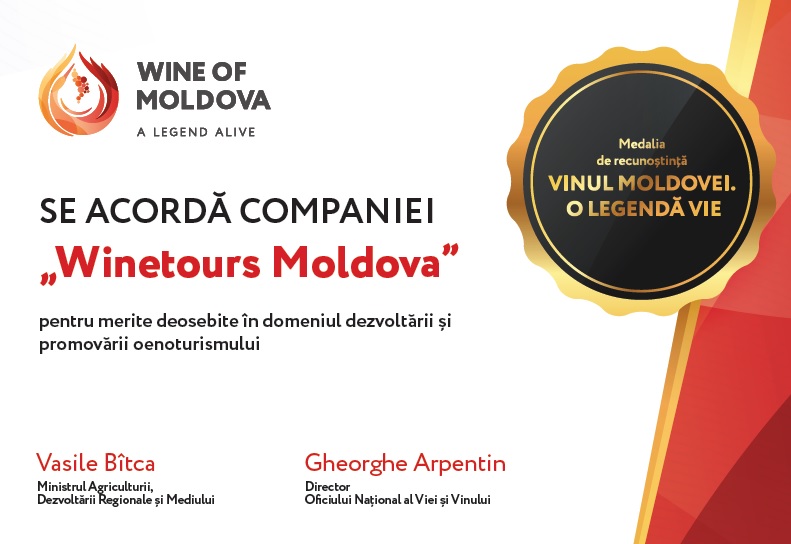 Address
115 Tudor Vladimirescu str., of.1, com. Durlesti, mun. Chisinau, MD-2003, Republica Moldova
Google map