Winetours Moldova invites you to visit the Winery from Tiraspol "KVINT", on 8th October, when a new edition of "The Wine Day" will be organized.
On this day, all guests of the enterprise will be able to participate in a free tour of the factory and visit the collection of the company KVINT. The event will include fascinating master classes hosted by the main winemaker, where the best wines and new products will be offered, and the new wine of the harvest of 2016.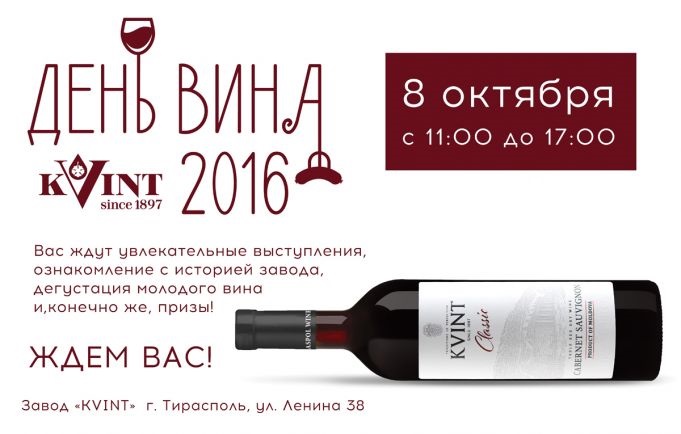 At the festival you can also taste specialties and grilled dishes from the best restaurateurs from the city Tiraspol.
Throughout the day numerous bands will perform on stage from KVINT. Most active guests will return home with prizes, if will participate in the quiz.
KVINT has prepared a special program for children. Various animators with entertainment programs, which will certainly provide your children a good.
Numerous craftsmen will exhibit their works and those interested will be able to realize their own crafts.
Only this day, in the winery stores "KVINT", all products will be available at special discount prices.
Departure from Chisinau – 08.10.2016 at 09:15, Tourist hotel.
Return to Chisinau, estimated at 17:00.
Ticket Price - 130 lei. Bookings will be accepted until 06.10.2016 by phone on + 37379555633 or info@winetours.md.
** Participation in master-class and tasting of new wines - 20 rubles/pers ~ 30 lei.
*** For travelling to Tiraspol - passport is required!